Judy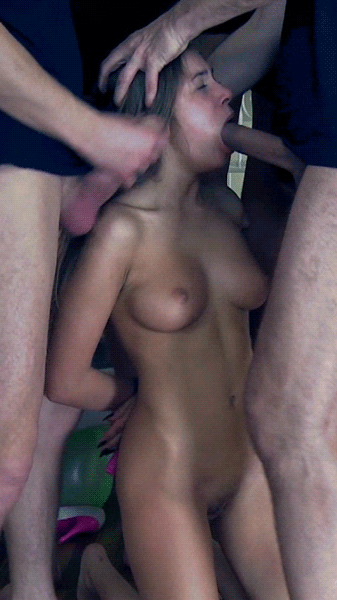 It had been a long, hard day and my buddy Ray and I were just looking for a quiet drink to unwind and relax. We walk into a friendly little neighborhood bar and because it's a Tuesday night things are pretty quiet. As our eyes adjust to the lower light level we see there are just a couple of guys sitting at the bar nursing beers and a couple over on the far side of the place throwing darts on one of those electronic dart games. Ray and I pick up a couple of drinks and decide that since the female half of the dart throwing duo is the only woman in the place we may as well sit somewhere near them to have our drink. (it had been a long day and we were tired but we weren't dead and we always like to scope out fresh meat).
So we take a table close enough to the dart throwers that they notice we are there and as we make eye contact with them we nod pleasantly, first at the rather attractive 40 something female and then her kind of wimpy looking companion. As we sip our drinks it is the female's turn (we learn later her name is Judy) and in order to throw at the target she has to stand at right angles to our table. Before I go any further let me tell you about Judy. While she appears to be 40ish she has the body of a woman much younger. It is hard and firm with a really nice ass and nice size tits, also very firm. She has dark, shoulder length hair with cute bangs, a kind of a sexy pout about her and is wearing old fashioned bib overalls with some sort of a white top underneath.
As she raises her arm to throw the dart I realize that I can see the entire right side of what appears to be a very firm little titty. The lighting is not real great although they are standing in an area a little brighter than where we are sitting, I suppose for Georgeefit of the dart game. While her arm is up only for the brief time necessary to aim and throw, I swear I can see the whole tit, nipple and all. I lean over and mention this to Ray who I should have known has already noticed the same thing.
The next time Judy steps up to throw I swear she looked over to see if we were looking at her and then seemed to take just a little extra time lining up her shot with her arm in the air before throwing. Well, Ray and I decide we need a better look and get up an wander closer to the couple under the guise of watching the game and making small talk. We learn then that the pretty lady's name is Judy and that her companion is George and that he is her husband.
From this range it is obvious that I was correct. As Judy raises her arm to throw I can see all of her firm breast including a very nice, dimpled, pouting nipple which appears to be pretty hard. Speaking of hard, by now both Ray and I are getting that way ourselves.
As Ray engages George in conversation I suggest to Judy that she is not holding her arm exactly right to get the best throw and without waiting to be invited slide up behind her and reach around with my right hand and take hold of her right forearm and lift it up to show her what I mean. As I lift the arm I step up close to her at just the right angle to look inside the bibs and white top to check out the perky boobs. She glances at my eyes and sees exactly where they are focused but makes to effort to cover up or block my view.
Taking this as encouragement I step immediately behind her and close the gap until our bodies are touching and in the pretense of cocking her arm for the throw pull her back against me. I am certain she cannot mistake the bulge in my pants as it rubs against the cheeks of that tight little ass poker oyna and it seems to me as if she momentarily backed up against my hard cock and twisted her ass just abit before releasing the dart.
Needless to say the throw went wild and I immediately rushed over with her to "help" her pick up the stray dart and "accidentally" collide with her as she is raising back up from picking up the dart. I make certain the back of my hand brushes the front of her bibs and those lovely tits.
As I look over toward our table both Ray and her husband are watching closely what is going on and I think both were aware my motives were more than teaching Judy the fine art of dart throwing. Ray immediately chastised my efforts and told Judy that he was the real dart throwing expert, not me, and that if she wanted some assistance he would gladly provide it.
He did not wait to see if she requested any help but quickly moved into position to take over my lesson giving effort. He was a little less subtle about grinding his rather large bulge into her sexy little ass and he managed to put both arms around her, the left around her waist under the pretense of helping her assume the right posture and the right to help her cock her arm properly to throw.
Well, both George and I could see that Ray's effort to perfect her posture included cupping her left breast with his left hand as he reached around from behind. And he is working her right arm forward and back made several practice throws each time pulling0 Judy harder into his growing and rather impressive bulge.
While Judy didn't seem to mind any of this too awfully much, George seemed to be getting a little nervous so I suggested that he and I head for the bar to get us all another drink. As we walked away I noticed Judy throw the dart and once again it went astray. As George and I stood at the bar waiting for our drink order to be filled we turned to watch Ray and Judy. Ray made no pretense of his bold stroke of Judy's pretty little ass as she bent over to pickup the dart. I turned to George to see if he noticed as well and I told him his wife certainly had a sexy little body and I was really enjoying looking at it. He kind of mumbled something which I couldn't hear and I said, "George, you don't mind that Ray and I are admiring your lovely wife do you?" He responded he guessed not.
We took the drinks back to the table and as we all sat down Ray and I grabbed a chair on each side of Judy and positioned George on the opposite side of the table. Ray and I began to make short work of our drinks and encouraged Judy to do likewise telling her she must be thirsty after all that dart throwing. Well, it didn't take long before we reached the bottom of the drinks and Ray handed George a ten dollar bill and pushed our empty glasses toward him and asked his to get us all another round. George said he really didn't think Judy needed another one but we said nonsense, get the lady a drink…. Now.
As George got up and moved toward the bar I placed my left arm on Judy's shoulder and dropped my right hand to her right leg as I turned toward her to make small talk. There was a bowl of pretzels sitting on the table and Ray, sitting to Judy's left as I sat to her right, reached for a pretzel and knocked the bowl (accidentally of course – ha!) into Judy's lap. Well we both began picking up pretzels and copping feels of Judy's legs in the process. As we brought the pretzels from her lap back to the table the backs of our hands brushed against her hard titties. And we both made a production canlı poker oyna out of reaching for the pretzels that had dropped between her legs next to her crotch. George returned as we were really getting into feeling up his wife under the pretext of picking up the pretzels.
Judy's face was getting pretty flush and it was obvious she was breathing a lot harder and she also was making no effort to stop our frisky cavorting. She reached out to take the drink out of George's hand and he suggested maybe they should call it an evening. I said that was silly as we had all just gotten fresh drinks and that he should sit down and relax. "We're really enjoying your wife George, just relax." "Yes," he said, "I can see that but I think it's time for us to go." Judy told him to chill out she was having a good time and wanted to stay awhile.
Well, emboldened by a couple of drinks on an empty stomach and Judy's obvious enjoyment of our little sneak feels, Ray and I became more overt in our groping of Judy running our hand up her legs to her crotch and brushing our hands against her tits. At one point she dropped her right hand to my leg in the course of conversation and I immediately took hold of her hand and pulled it to my bulging crotch. Ray noticed this and then said he thought maybe a piece of pretzel had fallen into the opening at the side of Judy's bib overalls and he reached inside to try to find it. I doubt that even if a piece had fallen in there which would have been difficult, that it had lodged on the end of her hard nipples but that is where Ray's hand headed immediately.
Not to be outdone, I said it looked like there was a piece on my side as well and I began to fondle Judy's right tit. She merely leaned her head back and began to moan quietly as George again suggested rather sternly it was time for them to go. As Ray reached for Judy's other hand to pull to his crotch he told George the lady was obviously having a good time and wanted to stay and that George could either sit down and be quiet or go ahead and leave.
As George began to sit back down I handed him more money and suggested that we all needed more drinks. He began to protest but I told him rather firmly to get us a fresh round of drinks.
By now, the two men who had been drinking at the bar had finished their beers and left and the bartender, with nothing else to do, had been leaning on the bar watching us. As George approached the bar the bartender smirked and noted that Ray and I certainly seemed to be enjoying George's wife. Ray and I took that to mean he was into our little game and would not throw us out if things progressed. Ray immediately reached into his lap, pulled down his zipper, and struggled to free his 10 inch, now rock hard dick from his pants. Judy immediately wrapped her left hand around it and began to stroke it. I reached up and freed the clasps on her shoulders which held the bib overalls up and pulled them down to her waist and then in one motion pushed her little white top up to reveal both her lovely breasts to the world. As George walked back toward the table he sat the drinks down hard and began to protest that we shouldn't be doing that to his wife. We told him that as long as she didn't mind, he shouldn't. By then, the bartender had had all he could stand and her wandered over to our table for a closer look. Ray had turned Judy's face toward him and was now swabbing out her throat with his tongue as I reached down inside the bibs to find she was not wearing any panties. I immediately went for her now soaked internet casino honey pot and began to stroke her clit. As I began to rub her clit she moaned, this time loudly and began to squirm. She stopped kissing Ray long enough to gulp down a large portion of her fresh drink and announce to the entire world that she needed to be fucked.
I looked at the bartender who immediately volunteered that there was a pool table in the back room and as we began to move in that direction he stopped by the front down and flipped the lock and turned the open sign around to closed. We told George that if he would be quiet and behave himself he could come along and watch as we made his wife a happy and well fucked woman. As we entered the back room Ray and I lifted Judy off her feet and the bartender pulled her bibs down her legs and off her feet. Ignoring the pool table we pulled a small round cocktail table from the side of the room into the middle of the room and laid Judy across it. It was a race to see who could be first off with their pants. Ray finished first with the bartender and I a close second. Ray slide in between Judy's legs which he raised up to place on his shoulders and began to slide his 10 inch long piece of fat meat into her eager cunt. As he began to fuck her, the bartender and I stood on each side of her face and began to twist her nipples and fondle her tits as we rubbed our cocks on her face. She immediately opened her mouth and accepted my hard cock into it and began to half suck, half moan as Ray was now fucking her so hard it threatened to upset the table.
Well, when Ray finished I immediately took his place in Judy's hot little cunt and the bartender took my place in her mouth. Ray walked up to wipe his dripping cock on her titties. I was so hot from watching the action and getting the blow job that it only took me a couple of strokes to climax and I pulled out and shot my load onto her tits as well.
The bartender watching all this came in Judy's mouth.
As we looked over to the side of the room, George had his tiny little cock out of his pants and was beating his meat for all he was worth. Ray walked over and escorted him over to his now satiated wife and invited him to lick her tits clean. When he protested Ray pushed his face toward Judy's tits saying she couldn't get dressed to leave with a mess like that. As we pulled out pants back on preparing to leave it was quite a sight watching George continue to pull on his little dick as he licked our cum off his wife's tits. Judy saw us getting dressed and told us that was the best fucking she's had in a long time and she had to see us again soon.
I said, "What about George? Won't he object?" "George honey," Judy said, "I have to have these two big cocks again. Ray and Jim have fucked me like you never can. I must see them again George. Tell them you don't mind. I belong to them now George."
George meekly told us he guessed his wife needed us and that he would not stand in the way. I said, "Stand in out way! It sounds to me like Judy's our woman now and we'll determine whether or not you get any pussy. So you best behave yourself George or we'll cut you off. You can fuck Judy once a week but you must wear a rubber when you do. We don't want you making a mess in OUR pussy. Got it George?"
Ray chimed in, "Ya George, you send our pussy back here one week from tonight, but don't bother to come along. We'll take good care of her and if you've been a good boy we might even tell you about it afterward."
With that, Ray and I walked over and one after the other took Judy in our arms and gave her one last good feeling up while we frenched kissed her goodnight. As we walked away we again heard her telling her husband how much she loved our cocks and the way we fucked her.